Fish First and Friends of The East Fork have shared local stream knowledge, technical experience, construction skills, and professional expertise to provide main stream and tributary fish habitat and stream channel restoration in the North and East Fork of the Lewis River.
Fish First and Friends of The East Fork Stream and Salmon Habitat Restoration Projects Completed On Lewis River System 1997 to 2008
To date, over the past 11 years, at least 26 projects have been done with a 90% success rate. The projects are still functioning, including those installed back in 1997. This document includes a listing of these projects separated into North Fork and East Fork tributaries, and includes projects in the planning stages or underway in 2009.
We use restoration technology found in the two WA State Restoration Guides (Integrated Stream bank Protection Guides WDFW-2003 and Stream Habitat Restoration Guidelines WDFW-2004) as well as those found in the new federal NRCS National Stream Restoration Manual, EPA Guides, and other sources of proven science based technologies.
These projects and related changing stream conditions are monitored annually by trained FF and FOEF volunteers. In addition, Cedar Creek, a tributary of the North Fork Lewis River, is monitored with fish traps by the WA F/W. Some projects are survey by the WA Dept. of Ecology.
Funding for these projects has come from a wide range of sources (private, state, and federal) which include funds directly from FF and FOEF Membership Accounts, grants from Fish-America, US Fish and Wildlife, Co-op Projects with the US Forest Service, WA State Recreation and Conservation Office (RCO) grants formerly called SRFB via the Lower Columbia Fish Recover Board, a direct grant from the WA State Legislature, Clark County, Clark Conservation, Clark-Skamania Fly Fishers, and donations by individuals and companies.
Fish species targeted are Coho, Chinook, Chum, and Steelhead — all of which are listed as "Threatened and Endangered" in the Lewis River System under the federal Endangered Species (ESA) Act.
These projects, focus on restoring the "balance" of stream channel functioning and increasing long-term fisheries populations. They range from; re-activating 150 ft to 400 ft long side channels, establishing juvenile rearing ponds along key reaches of stream channel, restoring deep pools, lowering summer water temperatures, increasing summer oxygen levels, re-establishing spawning beds, stabilizing eroding stream banks, repairing missing bank cover by adding vegetation and embedded wood, and re-vegetating adjacent riparian areas where feasible.
Work within stream project reaches varies from as short as 200 lineal ft. of critical habitat to over 5000 lineal ft of totally integrated stream treatment, and the installing of small bridges and multi-plate culverts up to 25 ft in diameter.
A more detailed description and photos are available for some of the projects on web pages www.fishfirst.org and www.eastforklewisriver.org. We do extensive documentation before, during, and after project implementation.
Fish First also conducts a wide range of other programs in addition to stream restoration. These include egg boxes, nutrient enhancement, fish rearing net pens, and public information and outreach.
Friends of The East Fork are advocates of "Good Land Stewardship" and work closely with Fish First and other organizations as well the news media, to provide up-to-date information to local landowners and the citizens of Clark County.
---
Completed Projects in The North and East Fork Lewis River
NORTH FORK LEWIS RIVER AND TRIBUTARIES:
Pigeon Springs Stream Restoration on Cedar Creek tributary the North Fork L. R.
Vrieswyk Dairy and South Chelatchie Creek tributary to Cedar Creek.
Belkoff Property and South Chelatchie Creek tributary to Cedar Creek.
Malinowski stream restoration and re-activation of spring fed juvenile rearing pond on Cedar Creek.
Shimano stream restoration and re-activation of key side channel on Cedar Creek.
Dupree South Chelatchie Creek stream channel restoration and bridge tributary to Cedar Creek.
Bill Doty Stream Restoration and Side Channel Re-activation on Cedar Creek.
Bill Harteloo step-pool access to spring fed spawning area and juvenile rearing pool tributary to Cedar Creek.
Cedar Creek 25 Ft. diameter Rail Road Culvert Replacement.
Jackson Creek Culvert on Cedar Creek Road between Woodland and Amboy and tributary to Cedar Creek.
Charlie Swift Stream Restoration and Side Channel Re-activation on Cedar Creek.
Edwards-Doty Stream Restoration and Side Channel Re-activation on Cedar Creek.
EAST FORK LEWIS RIVER AND TRIBUTARIES:
Storedahl Daybreak Mine operation adjacent to East Fork Stream banks stopped. Successful lawsuit in which judge ordered a "Cease and Desist" to stop mining (1995) and to delay all until HCP review.
Storedahl gravel washing slurry dumping into East Fork from Pond-5, and capture of a nearby spawning stream by the gravel pits, was stopped. Fish First and Friends of The East Fork brought a federal "Clean Water Act" lawsuit against Storedahl. A federal "Consent Decree" was ultimately signed in which Storedahl paid our legal fees, and agreed to both rebuild Pond-5 (which drained a series of five gravel mining ponds) to ensure it did not continue to capture Dean Creek and to regulate the flow out of the Ponds so that they would not cause so much harm to the East Fork.
North Rock Creek Salmon Juvenile Rescue Rearing Pool tributary to East Fork Lewis River.
Swanson Chum Channel and Juvenile Rearing Channel tributary to East Fork Lewis River.
Lower Mason Creek Juvenile Salmon and Steelhead Holding and Rearing Pool tributary to East Fork.
Lockwood Creek Co-op Project with WA Fish and Wildlife Dept. to modify step-pool logs on tributary to East Fork, in order to provide better passage of both adult and juvenile salmon during periods of low flow.
Swanson Side Channel Steelhead and Salmon Flood Refuge in Groundwater Supported Rearing Channel tributary to East Fork L. R.
Swanson-Fish First Tree and Shrub 10 Acre Nursery for riparian restoration, adjacent to East Fork L. R.
Right Angle Dike Removal Co-op Project With Clark County that doubled the East Fork Flood Plain where it was pinched down at the Clark County Maintenance Facility and caused severe erosion of cliffs and stream banks below.
Gren Fells Creek Stream Channel Restoration and spring fed Rearing Pool for juvenile Salmon and Steelhead on tributary to East Fork L. R. below Lewisville Park Bridge.
Lewis River Ridge Fish Habitat-Stream Restoration and Stream Bank Stabilization involving 6 new fish pools and bank protection. Project was later partly damaged by "Avulsion" up-stream of project reach when 2009 flooding washed out an old flood overflow channel above dumping many tons of sediment on the project treatment structures. Damage will be repaired to the extent feasible.
Upper East Fork Watershed Co-op Project with US Forest Service to restore steelhead spawning beds, holding pools, and establish helicopter log complexes for fish cover and gravel accumulation.
Manly Road Creek Co-op Project with Clark County. Rebuilding of lower stream channel, creating new fry and smolt rearing pool as well as new spawning beds. Old leaky pond was filled in and new fish friendly channel installed to replace steep unstable eroded channel. Stream is spring fed and a tributary of the East Fork.
Manly Road Creek Co-op Project with Clark County to replace two rusted out collapsed culverts that inhibited passage of Salmon and Steelhead to habitat and spawning reaches upstream.
---
Recent East Fork Lewis River Stream & Fish Habitat Restoration Projects – Snapshots
MANLY ROAD CREEK TRIBUTARY TO LOWER EAST FORK LEWIS RIVER:
BEFORE: "With Death Trap" Pool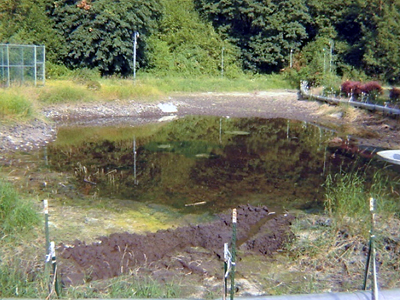 AFTER: Rebuilt Pool, Channel, and Spawning Beds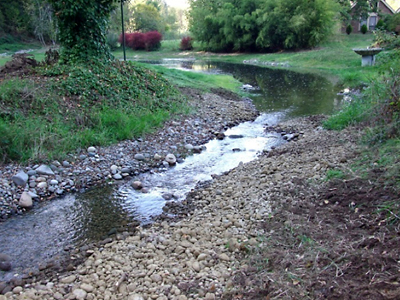 In co-operation with Fish First and Clark County in 2008, an old leaky pool in the middle of spring fed Manly Road Creek off 259 St and 72nd Ave. north of Dollars Corner was replaced with a new channel and a deep long narrow lined pond that would allow juvenile salmon and steelhead to rear and then migrate into the East Fork. Spawning beds were also installed in the new channel above and below the replaced (new) pond. Ameri-Corp assisted in planting trees and shrubs. As of May, 2009, over 2000 fry have emerged from the new project habitat. Tapani Underground provided a special habitat construction trained operator and equipment.
RESULTS:
New Channel With Special Liner To Prevent Water Loss During Critical Summer Flow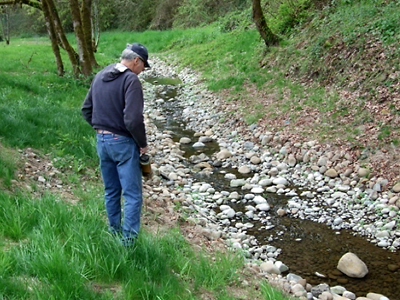 Salmon Fry From New Spawning Beds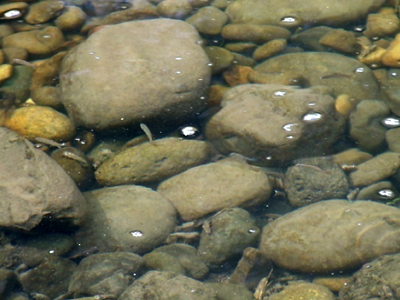 ---
MANLY ROAD CREEK TRIBUTARY TO LOWER EAST FORK LEWIS RIVER:
CULVERT REPLACEMENT ABOVE REBUILT STREAM CHANNEL AND POND
BEFORE: Old "Rusted Out" Culverts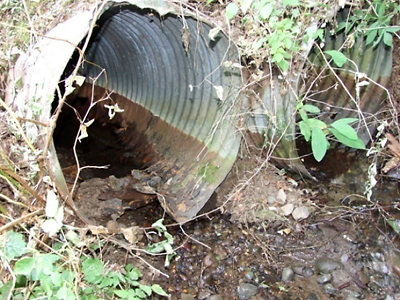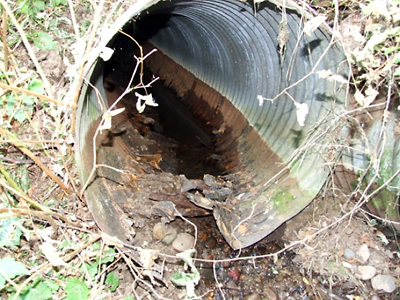 At the request of the Clark County Commissioners and with co-operation of the WA Fish and Wildlife, Fish First returned to the project site and cost-shared the installation of a new larger culvert to replace the two rusted out culverts. A special "Culvert Team" from Tapani Underground completed the work in one day.
AFTER: New Larger Culvert That Opens 2 Miles Of Fish Habitat Upstream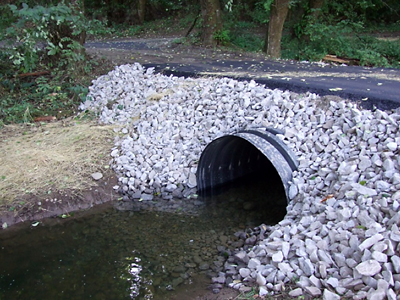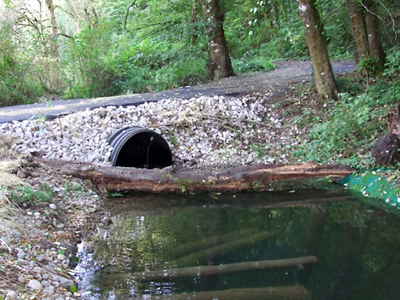 Manly Road Creek Project Salmon Fry Sampling
Dave Brown Fish Rescue Team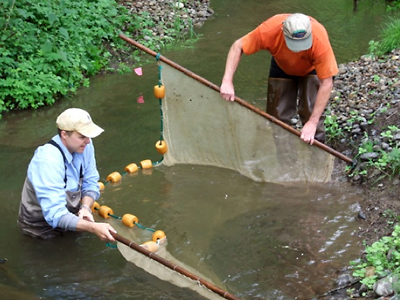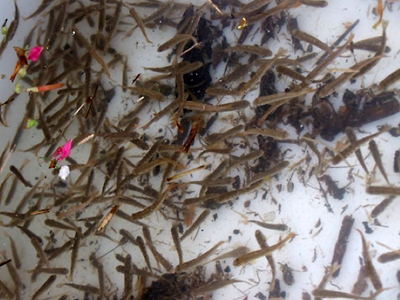 ---
UPPER EAST FORK 8 MILES ABOVE SUNSET CAMPGROUND AND FALLS:
CO-OP FISH FIRST AND US FOREST SERVICE STEELHEAD HABITAT MULTI-TREATMENTS PROJECT
Project involved a series of special log gravel holding complexes above the abandoned concrete bridge where the Green Fork enters the upper East Fork and a series of gravel holding, pool creating rock Cross-vanes or Weirs below the abandoned bridge. Over 1,500 ft. of channel was improved. New steelhead redds (spawning beds) from recent spawning have been observed in 2008-2009 in both treatment reaches.
UPPER EAST FORK ABANDONED BRIDGE SITE:
US FOREST SERVICE GIFFORD PINCHOT N. F.
Steelhead Spawning Reach For Large Fish That Can Jump Lucia Falls.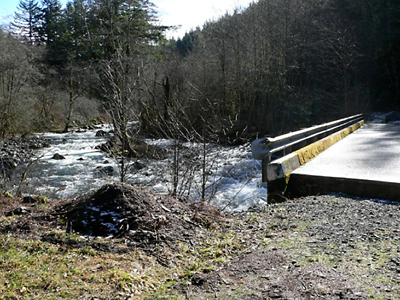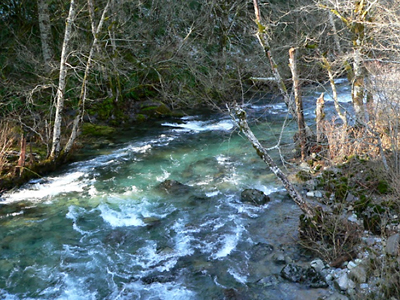 CROSS-VANE (WIER) TREATMENTS:
Pool Creation and Gravel Holding Below Bridge