High-Water Temperatures and Low Flows in the East Fork Lewis River Threaten Recovery of Salmonid Fish Populations In The River
Friends of The East Fork supports EPA "Threatened and Endangered" listed Coho, Fall Chinook, and some Chum Salmon as well as Sea-run Cutthroat, Summer Steelhead, and Winter Steelhead. Their population levels have been steadily going down in recent years. All of these fish need clean, clear, and cold water to survive and spawn. Monitoring conducted by the Department of Ecology during 2005 indicated high summer water temperatures and low flows can significantly affect fish in the East Fork. Fish First (FF) and Friends of the East Fork (FOEF) using trained volunteers, also monitors the East Fork as well as Cedar Creek of the North Fork.

This summer, Richard Dyrland, a retired supervisory hydrologist and FF and FOEF monitoring volunteer with EPA training, conducted additional testing by placing remote electronic temperature recorders, known as HOBOs (see picture), in a three mile section of the East Fork below Daybreak Park. A network of these small devices set to record every hour, are strategically placed in the Lewis River System from mid-June through mid-October. The constantly recorded river water temperature data is periodically collected, compiled, and analyzed during the summer time period.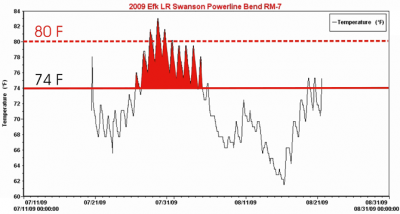 The Department of Ecology sets temperature guidelines for the East Fork Lewis River at 16-18 degrees Celsius (60.8 to 64.4 degrees Fahrenheit). Ecology guidelines use a 7-day average of maximum temperatures instead of the daily temperatures, which tends to flatten out specific daily readings. FOEF hourly data for this summer showed the water temperatures reached a fish stress level of 74 degrees and peaked at over 80 degrees for four days in one eleven day period in late July and early August, a situation exacerbated by daytime air temperatures in the 90s and 100s. During that same period, temperatures recorded in nearby ground water fed side channel were 8 degrees lower.
While not directly comparable to the state guidelines, the hourly FF data supports earlier findings and suggests a continuing temperature problem.Water temperatures this high can harm or kill salmon, steelhead, and some aquatic food if they are exposed for too long. For short periods, fish can survive by using thermal refugia, such as pools, springs, etc. This assumes there are an adequate number of deep pools in the lower East Fork. However, the original pools have been degraded or lost due to the high rate of bedload sedimentation in the lower river over the last 20 plus years.
Streamflows vary by season, depending on stormevents, snowmelt, and rainfall. Stream flow is measured in cubic feet per second (CFS): the higher the CFS, the higher the stream flow. The United States Geological Survey measures river flow at a site east of Daybreak Park. The Department of Ecology gives a range of 240-420 CFS for optimal juvenile salmon survival.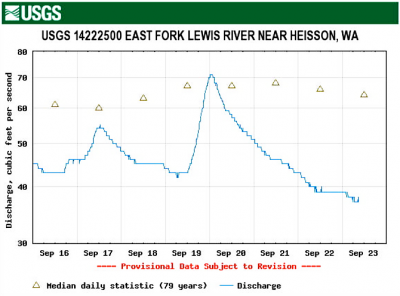 Data collected since 1929 show average flows of 143 CFS in July, 83 CFS in August, and 110 CFS in September. The average for the last ten years is slightly lower at 118 CFS in July, 83 CFS in August, and 88 CFS in September. HOWEVER, AVERAGES DO NOT TELL THE STORY ON THIS "LIMITING FACTOR" IN THE RIVER. The USGS recorded low flows (see graph) in the 40-50 CFS range for late August and much of September. Record low flows for the East Fork have been recorded in the 30s CFS range. Fish First also periodically meters several key sites in the river during the critical summer low flow period. Findings after several years of monitoring flow shows that there is little effective summer inflow in the lower East Fork below the USGS Heission Gage which is located about 11 miles upstream above the Heisson Bridge. The metered flow levels and that recorded every 15 minutes at the Heisson Gage are almost identical.
This indicates that at low flow periods, it may be that any inflow is going sub-surface or ground water under the stream bed and/or there is a loss of flow from just below Lewisville Park and on down to just above the City of La Center.
High stream temperatures and low flows can combine to produce harmful conditions for many species using the river. The East Fork, once known for its premier fishing, boasted a state record 32 lb. 12 oz. steelhead caught in 1980. If high river temperatures and low flows continue, and immediate remedies are not taken, the East Fork will face even more serious challenges in the future.
To find out what you can do to help the East Fork of the Lewis River, visit Fish First, Friends of the East Fork, or the Watershed Stewards. For more information on temperature monitoring visit Washington State Department of Ecology.