ANOTHER COLLABORATIVE STREAM PROJECT SHOWS GOOD RESULTS!
Collaborative help from Friends of the East Fork and the Salmon Creek Fly-Fishes/Healing Waters Veterans Group is utilized to work on improving existing fish habitat projects and to implement new stream restoration projects.
Existing projects are improved through new maintenance support. Under its diversified programs (Net Pens, Egg Boxes, Nutrients, and Stream Restoration), in the last 20 years Fish First has installed over 76 fish recovery projects, including over 13 miles of stream projects in the Lewis River System. This offers a great opportunity for project improvements through providing volunteer collaboration in meeting project maintenance responsibilities.
As well as working on the North Fork and East Fork main channel of the Lewis River System, it is now understood by most fisheries biologists that tributaries are major contributors to salmon population recovery and health. Fish First and Friends of the East Fork have been very active with supporting tributary projects on Cedar Creek, Mason Creek, Manly Road Creek, North Mill Creek and others. These groups along with volunteers from Salmon Creek Fly-Fishers, are also major collaborators with Clark County, State, and Federal agencies as well as other fish and "Good Land and Water Stewardship Groups".
One of several projects that have shown good response over time is the East Fork Lewis River tributary stream of Manly Road Creek, located about a mile below Daybreak Bridge where a Fish First 2008 channel habitat restoration project was completed (refer to location photo below) and collaborative follow up maintenance was done in 2015.
Lower Manly Road Creek Project By Septan Drive Off 259th St. NE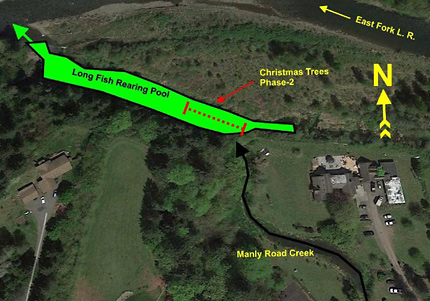 Manly Road Creek, a spring fed tributary stream, had been a good producer of coho and steelhead fish until sediment pollution from upstream sources and the leakage of water out the bottom of a pond dug in the middle of the channel caused a major loss of both spawning and rearing habitat as well as the loss of salmon fry rearing water during the critical summer months. A damaged upstream culvert was also blocking fish passage.
Leaky Old Pond Rusted Culvert



In 2008, Fish First re-built about 800 ft. of lower stream channel and created a long narrow fish rearing pond to replace the leaky pond that trapped both fry and juvenile salmon. In addition, it replaced the worn out culvert with a new larger culvert. Later, a "beaver deceiver" device was also installed above the culvert to keep beavers from cutting off the water supply in the channel during the critical summer months of low flow.
Before Rebuilding of Manly Creek Channel After Rebuilding of Manly Creek Channel



After Photo of Rebuilt Manly Road Creek Outlet and New Culvert on Septan Drive Access Road



In recent years salmon spawning was observed in the gravel below the new culvert and also at the rebuilt upper rearing pool. In the fall of 2015, there were 5 spawning "reds" observed at these sites and at least 6 pair of salmon spawning during fall and early winter high water flow.
Salmon Spawning in New Channel in Manly Road Creek – Fall of 2015



Other types of work was done to complete and enhance the lower channel reach of Manly Road Creek. This included planting Cedar Trees along the banks, adding "Beaver Deceivers" to various reaches of the upper channel where beavers were holding back too much water in the summer. And in 2015 adding/anchoring Spruce Christmas Trees (without needles) to the in-channel rearing ponds to provide better protection for the fry and juveniles from predators as well as more effective habitat cover. These trees were added to both the upper fish rearing pool in front of Grace Lodge, and to the long pond at the outlet of Manly Road Creek located just before Manly Road Creek enters the East Fork.
Beaver Deceiver Pipe Being Installed Through Beaver Dam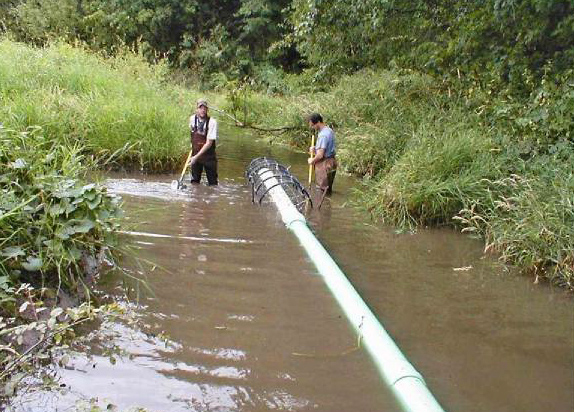 Cedar Trees Growing on Channel Bank and Christmas Trees Being Installed In Rearing Pools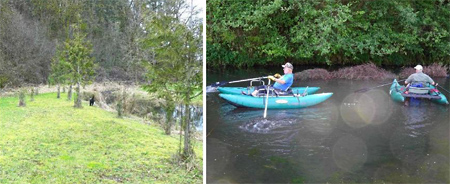 While Fish First does most of the maintenance and monitoring of its projects. It also encourages and practices collaboration and cooperation with others. The Manly Road Creek project is a good example of this in that the Healing Waters Veterans Group, Friends of the East Fork, and Boy Scouts have been very active in the maintenance work of this project.
Healing Waters Veterans Christmas Tree Team and Multi-Group Maintenance Team



SUMMARY: Underwater cameras and personal monitoring shows that the lower Manly Road Creek project is producing salmon fry and juveniles. The small pool opposite the Grace Lodge and the large pool at the creek outlet (see photo below) provide extensively used, productive habitat for fish.