In support of a request from the Sierra Club, Friends of the East Fork Lewis River (FOEF), which is a Non-Profit (501C3) Tax Deductible Group, dedicated to advocacy of good land and water stewardship, is deeply concerned about the potential impacts of a WA Dept. of Natural Resources (DNR) logging proposal on a site located directly above the Hantwick Trail. The site is part of the Lucia Falls/Moulton Falls Clark County Parks Recreation Complex on the East Fork. The trail is part of the exceptional Complex which is so well known and enjoyed by many in the Vancouver and Portland area and other residents of Clark County. The Complex and the paved trail itself are what is classified economically and socially/environmentally as an "Irreplaceable Asset".
The proposed project is located in Clark County, WA about 9.7 miles east of Hwy 503 up Sunset Falls Road along the East Fork Lewis River, on the south side of the river off Hantwick Road and on the left just past the scenic rail road tracks that go from Vancouver to Chelatchie Prairie. The area is on the south side of the East Fork and as stated, a part of the Lucia Falls/Moulton Falls Park recreation complex along the East Fork.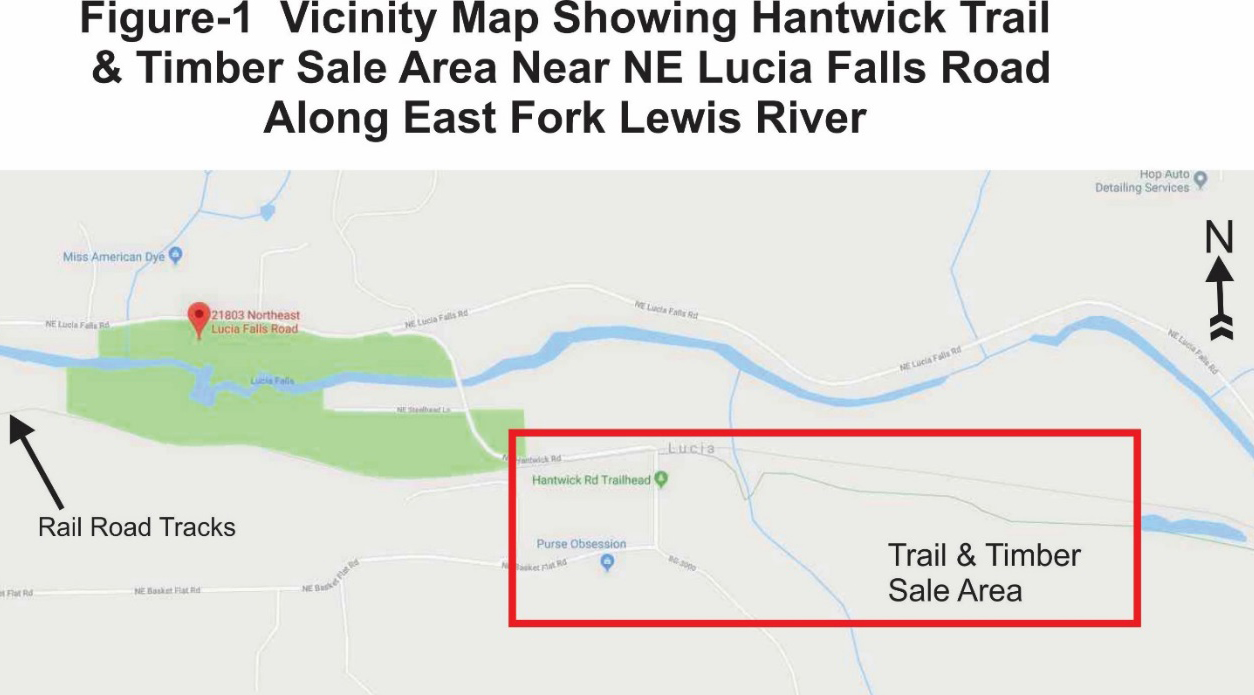 An analysis of potential logging impact risks on this site was done for FOEF by a professional watershed and stream hydrologist who also has a geomorphic background. From existing soils and geologic slope stability maps and data on the area, along with an on-site ground reconnaissance thru the very steep hill side proposed for logging, — he concluded there is a severe erosion/sedimentation risk as well as slump or landslide potential. The visual and scenic value of the area would also be degraded as it would be visible from the trail, the railroad, and Sunset Falls Road which is a major travel road that runs along the East Fork and on up into the Gifford Pinchot National Forest.
After the disastrous logging that triggered the large slide at Oso, WA. — thorough site evaluation, risk analysis, caution, and prudence is a policy the DNR was directed to follow on all timber sales. Freedom of Information (FOIA) received so far from the DNR, does not indicate this type of thorough investigation has been done yet for this specific site. New and better logging configurations or alternatives to disturbance of this site need to be developed — including not logging this relative narrow strip of land adjacent to the East Fork and whose "Irreplaceable Asset Value" far outweighs the relatively small volume of timber that would be harvested.