"FISHWAY" Fish Passage System
NEW TECHNOLOGY FOR OPENING UP BLOCKED STREAMS TO SALMON
Many small rivers and tributaries are or have become blocked to upstream fish passage due to either natural barriers or those caused by people activities. Bad culverts, headcut-washouts, old debris jams or waterfalls are usually the cause.
View of Fishway Unit At Streamside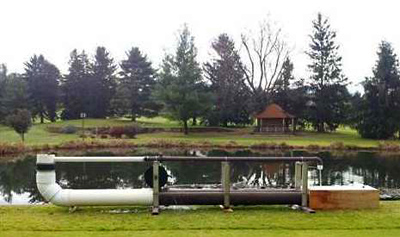 Now, a relatively simple and effective, as well as economical technology has been developed. The system "Fishway" is basically a combination of pipes and water powered gates developed and patented by Norm Neufeld. It is similar to the boat locks that move ships over river barriers.
It is powered by the flow of water and self-operating gates that allow fish to move up a pipe and over the barrier. The system can be installed in the stream or at stream-side.
One Of Several Test Fish That Swam Thru Unit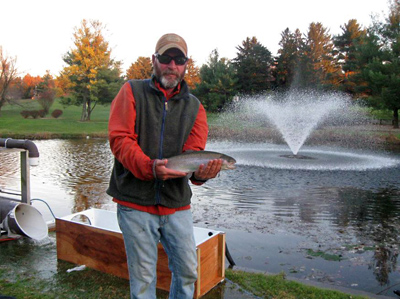 Tests show that the system can move fish over barriers of 4 ft. or more. Research has previously shown that fish can and will swim relatively long distances thru a pipe if they sense a current in the pipe. A number of government entities (US Army COE, Washington and Lee University, City of Lexington VA. and Inland Fisheries) have approved the installation of this system and are further cooperatively testing it.
View of Operating Test Unit on Ground/Streamside Setup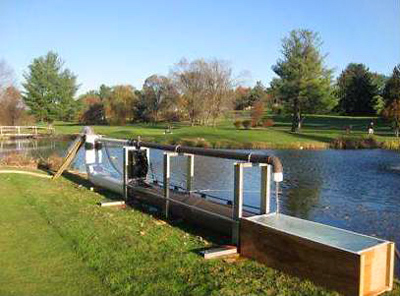 The cost of building and installing step-pools or concrete fish ladders over barriers 10 ft. high or more can be quite expensive. This technology offers an alternative to salmon and steelhead passage restoration and at a lower cost.
Those interested in finding out more about this fish support technology can contact:
Norm Neufeld
540-471-7612
nneufeld34@gmail.com