HEALING WATERS VETERANS AND SALMON CREEK FLYFISHERS MEMBERS HELP COMPLETE NEW SALMON SIDE-CHANNEL ON LOWER EAST FORK LEWIS RIVER, BELOW THE DAYBREAK BRIDGE COUNTY PARK – October 29, 2013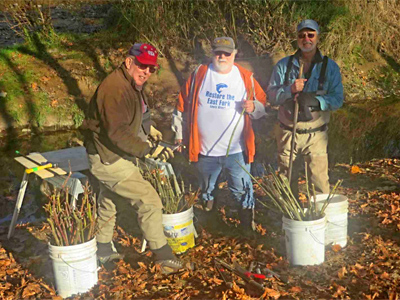 Veterans from "Healing Waters", a national non-profit organization that assists veterans who have been wounded or suffer traumatic injuries, volunteered to assist Fish First by helping complete the vegetative planting on the banks of the East Fork, Lewis River's new side-channel.
Locally, they are affiliated with the Salmon Creek Fly Fisheries which is part of the National Fly Fisheries Federation. The veterans volunteered to assist Fish First in helping complete the vegetative plantings on the banks of the new side-channel.
The channel helps salmon and steelhead fry and juveniles in several ways that are critical to their survival during the time period before they migrate to the ocean.
This side-channel provides abundant cool (60 F) groundwater inflow year around to counteract the stressful, high summer channel temperatures that often occur several times during mid and late summer low flows in the lower East Fork.
The bank plantings (willow and dogwood), root-wads, and other cover in the side channel provide protection from predation by birds as well as other sources.
Plantings being inserted into bank at middle of side-channel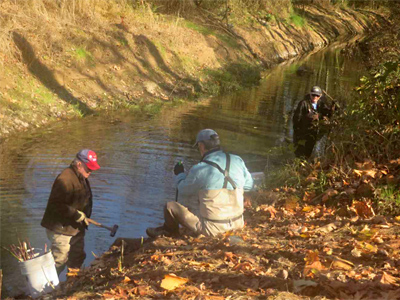 The flow velocities in the side-channel are by design, much lower than those in the river channel during fall and winter flooding. This keeps the juvenile fish from being injured as well as being flushed out of the side-channel and into the main river where they would be at high risk for injury. A recent "bankfull" flood event on the East Fork was measured for flow velocity. The water velocity in the river ranged from 3.5 to 4.0 cubic feet per second (cfs), whereas the side-channel, because of the construction design, had a velocity of 1.0 to 1.5 cfs. , which is relatively low and has little impact on small fish.
The East Fork has no dams and support coho, chinook, chum, winter and summer steelhead. The new side-channel with all the added habitat components and low flow depths of 4 ft. or more, is an effective rearing environment for juveniles and fry because it also provides food in several forms ranging from flying insects to macro invertebrates that live in the bottom of the channel.
Willow and dogwood plantings being installed at outlet into East Fork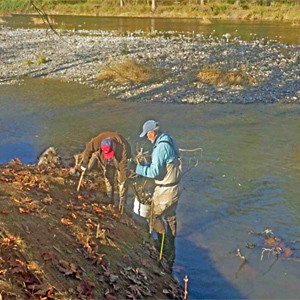 The side-channel is "Phase-1", part of a larger project "Phase-2" being sponsored cooperatively by Fish First and Clark County Parks. Friends of the East Fork Lewis River, also provided volunteer assistance and technical information. Ben Dennis of Salmon Creek Fly Fishers provided volunteer coordination with Fish First.
Low summer water level view of side-channel exposing some of the root-wads and other types of side-channel fish cover materials in this special type of habitat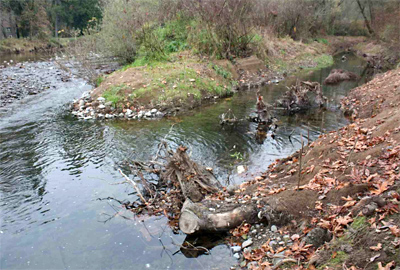 Since the side-channel was opened in late September, over 80 juvenile salmon have been observed in various sections of this channel. In addition, at least two local high-schools have expressed intention to include the channel in their land-stewardship/environmental activities class.
Project funding grant was through the Lower Columbia Fish Recovery Board(LCFRB) of Southwest Washington, which receives money through the WA State Recreation and Conservation Office (RCO). Colf Construction of Vancouver did the actual construction.
Richard Dyrland
Supervisory Hydrologist