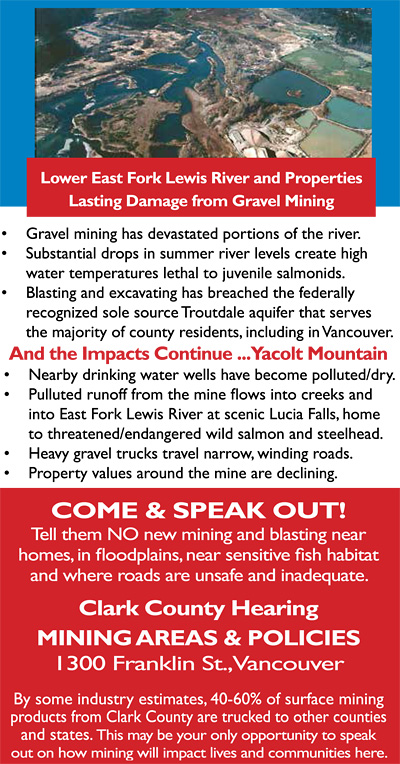 Meeting details coming soon…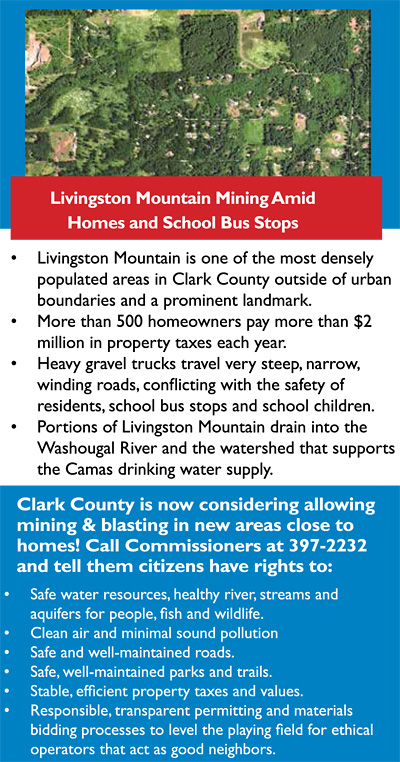 Clark County Coalition
Mining Policy Statement
December 2013
We the undersigned believe these principles must form the foundation for all Clark County's surface mining policies and regulations:
– Smart planning and enforcement:
Surface mining to provide a local supply of rock can be consistent with protecting healthy and economically vibrant communities, water resources and residential property values in Clark County, but only if we improve comprehensive plan protections and create a framework for monitoring and enforcement, which does not currently exist.
– Horse first, then the cart:
As required by Washington state law, Clark County mining policies should be planned as an integrated part of the County's upcoming Comprehensive Plan revisions and not in isolation as currently proposed. They should be considered along with other important planning goals such as ensuring safe neighborhoods for children and adults, a quality of life that is attractive to new high-value businesses, and fish and wildlife protections.
– Community protections should be strengthened, not weakened:
The current Clark County comprehensive plan specifies the minimum criteria necessary for designating mineral lands to provide for wise use of resources and avoid conflicts with adjacent communities. These criteria should be preserved and applied. No expansions of the mineral lands overlay should be considered until needed policies and staff are in place for effective monitoring and enforcement.