Friends of the East Fork (FOEF) has had a very good river project work season in 2020 (Despite all the challenges facing everyone.)
We completed not just one, but two in-stream fish habitat and stream channel restoration projects. This was all done thru generous funding donations, collaboration and support from several other conservation groups, and timely permitting support from the WA Fish and Wildlife Staffs. Starting in 2002, we now have done 21 "Instream Projects" in the East Fork River System since 2002.
2020 Project 1: The Manly Road Creek fish rearing pool sediment clean out project allows the rearing of juvenile salmon and steelhead.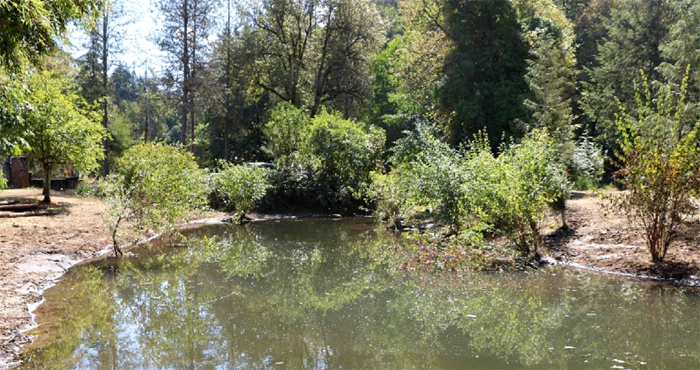 Photo of Manly Road Creek Fish Rearing Pool With Sediment Removed.
---
2020 Project 2: Phase-2 of the Power Line Bend Project on the lower East Fork above La Center was a key project that provided fish habitat, provided control of extensive extreme bank erosion while protecting a Federally recognized emergency airstrip and adjacent road.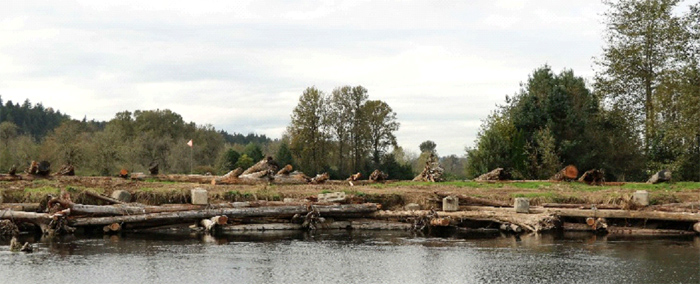 Photo of Phase-2 Power Line Bend Project.
---
LISTING OF "INSTREAM" FISH Habitat and STREAM RESTORATION PROJECTS DONE BY FRIENDS OF THE EAST FORK (FOEF) EITHER COLABORATIVELY OR INDEPENDENTLY ON THE EAST FORK SYSTEM SINCE 2002.
For the list of projects that follow, Friends of the East Fork (FOEF) gathered the stream project data, analyzed it, developed the detailed design and supervised the project construction, including two projects in 2020.
In a number of projects, the development, construction, and maintenance was greatly aided by generous support and collaboration from other conservation and citizens groups as well as both state and federal agencies. Some projects were funded by grants, others by fund donation and contributed services. Also additional kinds of stream and watershed activities such as stream channel condition/water quality and watershed monitoring, continuous temperature recording, stream flow metering and analysis, and County, State, and Federal regulations compliance oversight monitoring is also done. In addition, FOEF has assisted Fish First in doing the design and installation of about 13 miles of in-stream restoration on Cedar Creek, a tributary of the North Fork of the Lewis River System.
PROJECT IDENTIFICATION/LOCATION KEY CODES AND DESCRIPTION
Project Number Starting at Head of East Fork L. R. on the Gifford Pinchot Nat'l Forest Watershed and Moving Downstream.
Location by US Geological Service Map River Mile (RM) by Stream.
Description
Project Brief Description.
RM 39: USFS/FOEF Phase-1 Green River/Upper East Fork.
RM 38: USFS/FOEF Phase-2 Upper East Fork.
RM 16.5: North Fork Rock Creek tributary Fish holding pool-Rock Ck. Road (Tributary Mile 4.1).
4A. RM 13: Gren-Fells tributary Creek Steelhead Reach holding pool. (Tributary Mile 4.0).
4B. RM 13.1: Dave Barta Steelhead spawning beds rebuilt and culvert upgrade. (Tributary Mile 3.9).
5. RM 10: West Daybreak Park lower spring fed side-channel re-activation collaboration.
6. RM 9.6: Clark County Maintenance Yard Ruminant Right Angle Dike removal collaboration.
7. RM 9.5: Manly Road Creek tributary lower channel rebuild. (Tributary Mile 0.2).
8. RM 9.5: Manly Road Creek tributary Fish Rearing Instream Pools creation. (Tributary Mile 0.2 and 0.3).
9. RM 9.5: Manly Road Creek Beaver Deceiver System Install (Tributary Mile 0.4-0.9).
10. RM 9.5: Manly Road Creek tributary Upper Fish Pool Sediment removal (Tributary Mile 0.3).
11. RM 9.0: Wiseman Side-channel.
12. RM 7.2: Dean Creek Outlet restoration.
13. RM 7.3: Phase-1 Powerline Bend stream bank restoration and pool generation.
14. RM 7.3: Phase-2 Powerline Bend stream bank restoration and steep bank shear stress moderation.
16. RM 7.2: Chum Channel Bend River Root-wad bank wall.
17. RM 7.1: Chum Channel Bend Large Floating Splayed Log Jam.
18. RM 6.6: Swanson-Bonneville Power Chum Channel.
19. RM 6.4: Daybreak Airstrip Side-channel activation.
20. RM 5.5: Lower Mason Creek-Swanson salmon fry pool restoration. (Tributary Mile 1.8).
21. RM 5.5: Lower Mason Creek Channel Fish Habitat Restoration. (Tributary Mile 2.2).