Draft Minerals Overlay Map
Fig.1. Minerals Overlay Map Cutout at East Fork Lewis River Section at Lucia Falls Area (click to open larger)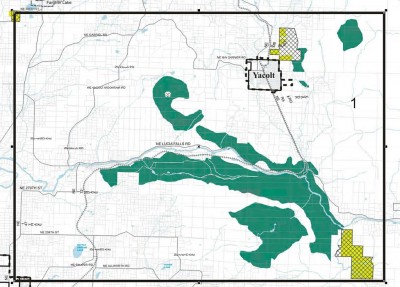 Fig.-2. USGS Topographic Map of Area with Cross-section Location Line (click to open larger)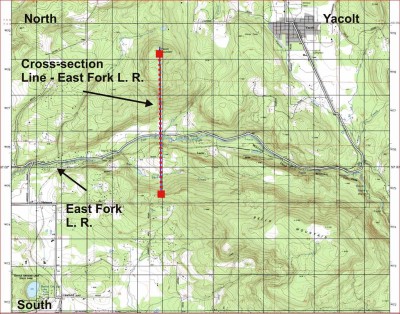 Fig.-3. Plot of Cross-section Line Terrain from Fig.-2 across Valley and East Fork Lewis River (click to open larger)


Points of Concern Using East Fork L. R. Overly Area Fig.-1 as An Example:
The "Draft Mining Overlay Zoned Areas" along the East Fork (which just one of several areas similar examples in Clark County) are on the steep hill and mountain sides that drain into the East Fork and the numerous tributaries that flow into it. It is not just contamination of the surface water runoff, but the groundwater too, as shown in Figures Sequence 1, 2, and 3. The geotechnical studies done on the Yacolt Mountain rock quarry site (Fig.-2) before it was permitted, strongly warned of the risks of mining blasting that would deeply fracture the rock and affect ground water flow and wells. These impacts can come from gravel and rock mining sites as far as a mile and a half away (1.5 mi.) from the stream. This is now happening to the wells around Yacolt Mountain. There is documented surface water pollution too (contact Dave Rogers 360-687-1100 for details).
Serious Pollution and Other Impacts From Locating Mining Near Streams Include:
Biological pollution (coliform).
Chemical pollution (ammonia nitrate) from rock blasting.
Fine silica dust which is carcinogenic
Disruption of ground water flow patterns which normally flow toward streams (East Fork) and which support the stream flow and fisheries in the critical summer months. Low reduced summer flows kill "Threatened and Endangered Listed" salmon — there are 4 species listed in the East Fork L. R.
Stream temperatures become elevated to lethal levels as a result of low summer flows — this happened in 2009 when the lower East Fork reached over 80 degrees for 4 consecutive days.
Home owners well go dry and/or become polluted with nitrates.
Property values are negatively affected and land owners property rights are reduced.
If the land owner does not own the mineral rights — there is limited protection from somebody else mining their land.
A solution is to keep the mining overlays away from the slopes above key streams and tributaries. There are other better sites for mining overlays as the full overlay map shows. Clark County has no shortage of sand, gravel, and rock (especially when 60% of it is shipped over to the Portland area). There are roads along or leading to most of the major streams in Clark County making it easier and more efficient for the mining company — of it doesn't have to build a road! It can use the one already paid for by citizen taxpayers — rather than having to pay for one itself.
Friends of the East Fork (FOEF) is not against mining if it is done properly, in the right location and with permits and operating agreements monitored and enforced (not currently adhered to by some mining operations in Clark County).
WHAT CAN YOU DO? Relay your concerns to: Michael Mabrey, Clark County Community Planning, 1300 Franklin St., Vancouver WA 98660. 360-397-2280 X4343 or michael.mabrey@clark.wa.gov
Or — you can contact FOEF at www.eastforklewisriver.org for more information.