Some members of Friends of the East Fork have been walking the banks of the lower East Fork to see if there are any salmon or steelhead fry and also juveniles left after the impacts of the big flood last December and the constant flooding on into April of this year (2016).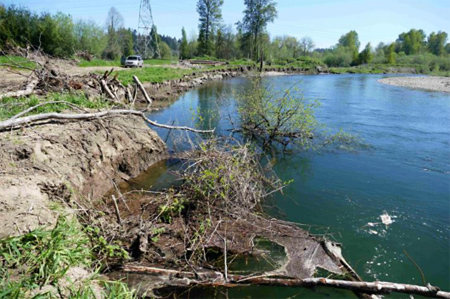 Severe Erosion and Sediment Impacts Dec. 2015-March 2016 Floods
The GOOD NEWS is that we have found fry below Daybreak Bridge over at the outlet of Manly Road Creek and in the large long pond just before it enters into the East Fork. Also, even with the severe erosion and stream bank damage, we are seeing fry around the deep pool below the Bonneville Power Lines on the Dean Swanson property.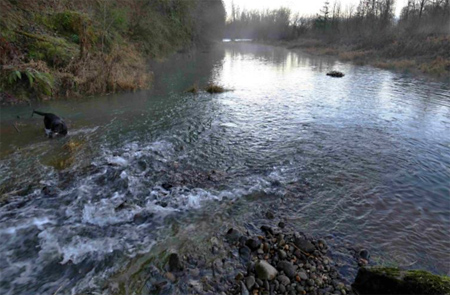 Manly Road Creek Outlet With Numerous Salmon and Steelhead Fry
Also there were salmon fry observed in the Swanson side-channel which is also a groundwater fed Chum spawning channel. Several thousand Chum fry were deposited by the WA Dept. of F&W into this channel early in the week of April 17th. They quickly moved out into the main river in just two days. This is typical of Chum fry as they do not stick around but immediately start their float to the Columbia River, once they emerge from the eggs.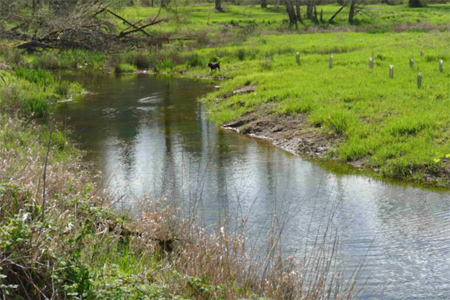 Swanson Ground Water Fed Chum Channel and Fry Site
We will be going out with the Healing Waters-Salmon Creek Fly Fishers Veterans Group to take under-water "GoPro" videos of these locations and the fry at the end of April or in early May, similar to what we did last year and posted on web pages. You can visit our YouTube page here.
And, we are also setting up to gather field data to use in the development of new project plans and grant requests for the lower East Fork as well as cooperating with Clark County on some projects already being requested for construction grants.
A major concern for this coming summer is the low water flow we already are observing. Last year was bad temperature wise as well as flow wise in the East Fork. This makes ground-water and spring fed side-channels critical for fry and juvenile fish survival. A few years back we reached 80 F degrees in the lower East Fork and many fish died.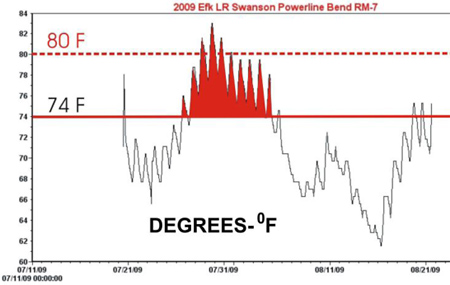 Side-channels can save many Salmon and Steelhead and we are identifying at least 3 other potential side-channel project sites. Also many of the formerly deep pools in the East Fork are either filled in or partially filled with sediment and no longer provide refuge from temperature extremes or provide for other kinds of fish habitat needs.