LOWER EAST FORK LEWIS RIVER PHASE-1 Nov. 2016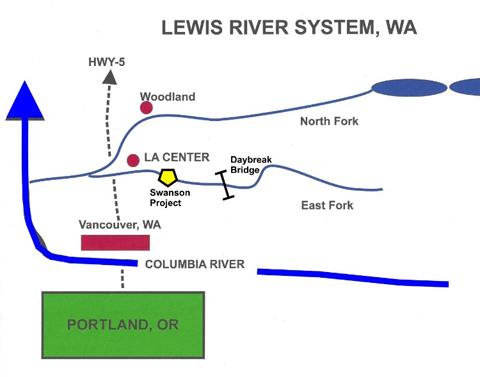 INTRODUCTION:
The East Fork Lewis River is an irreplaceable asset to the people of Clark County, WA.
It provides a wide range of diverse kinds of enjoyment to those living in Clark County and it is accessible from Vancouver in less than a half hour. It is also an important "attractor" to new companies and job seekers, as it provides personal and family amenities that few places can offer within such a short distance. The lower reaches of the river has a series of regional parks with their diversified characteristics, and farther up-river there is the more undeveloped and wild areas with numerous waterfalls and on up into the undeveloped and protected National Forest. There, one can go camping and hiking in a wild setting and watch the incredible native steelhead jump the waterfalls.
Over time, particularly the lower part of the East Fork has become degraded, much in part due to the activities of people and associated development. However, we now have an organized cooperative effort to restore many of these damaged or degraded areas back to a land corridor that will help protect the areas adjacent to the river and actually provide better experiences to those who enjoy the river. In addition, the river channel itself and the deteriorated streambanks are now part of an extensive restoration program intended to not only improve the stream condition and proper functioning of the river, but to also restore the past extensive loss of salmon and steelhead habitat.
One recently completed project this year thru the cooperation of Friends of the East Fork and the Swanson Family is the Swanson-Powerline Bend Project located on the Swanson Farm which is commonly known as the old "Day Break Feeders and Dairy Farm property." This is a famous area for both Chinook, Coho, and Chum salmon, but also Native Steelhead. All of these are now on the Federal Threatened and Endangered listing of the East Fork L. R.

THE SWANSON-POWERLINE PROJECT:
This project is located at about river mile 7.1 on the lower end of the East Fork Lewis River — see attached reference maps and aerial photos. The project is on the north side of the channel on an "outside" bend that has been severely eroded the last 20 years (refer to 2005 aerial photo comparison to 2016) and contributes substantial amounts of sediment to pools downstream. This section or "reach" of channel has chinook and coho spawning. The East Fork provides spawning and habitat for chinook, coho, chum and steelhead salmonids, all of which are currently under Federal "T&E" listing in this stream. It holds the state record for steelhead (32 lb. 12 oz.) and is also one of the WA Dept. F&W steelhead "Legacy" streams for protecting the genetic properties of wild steelhead in the Pacific Northwest.
Aerial View of Swanson 768 Ft. Project Reach with a loss of over 30 ft. of Streambank in 8 years– July 23, 2016 Photo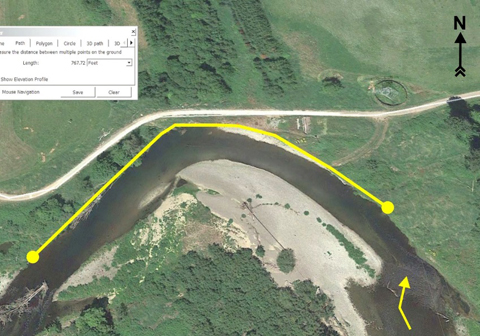 Ground level view looking upstream along north bank during low stream flow just before Phase-1 treatment in Oct. 2016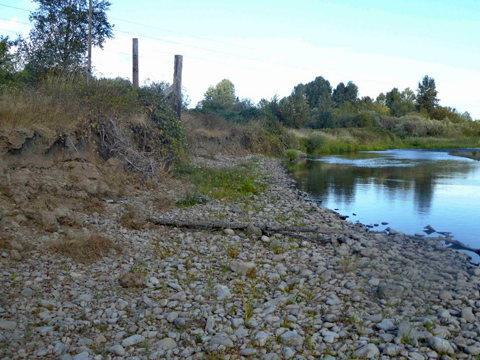 PROJECT OBJECTIVES: PHASE-1 & PHASE-2
1. Phase-1 reduce the shear stress on the north stream bank to prevent more excessive loss of stream bank & riparian area.
2. In Phase-1, treat 75 ft. of stream bank to reduce bank shear stress and continued high rates of erosion and sedimentation.
3. Reduce risk of loss of adjacent access road and damage to airstrip associated with excessive bank erosion.
4. Phase-2, treat 613 ft. of north side vertical bare stream bank to replace the total loss of fish habitat along the two pools between the upper and lower riffles of this project reach.
5. Restore vegetation on bank and riparian area with trees and shrubs.

Project Status Before Restoration:
Flood damage at bend after Dec. 2015 flood of about 20,000 cfs, a 2% Chance Recurrence Frequency or a 50 yr. Flood based on USGS gage upstream.
Ground Level View of Eroded Collapsing Bend on August 27, 2016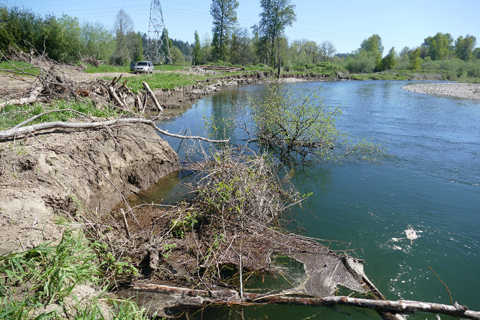 Post Treatment Flooding (about 4000 cfs.) of bend shortly after Phase-1 of Project was finished in Oct. 2016. Note treatments slowing water velocity along bank & reducing shear stress and associated erosion and sedimentation.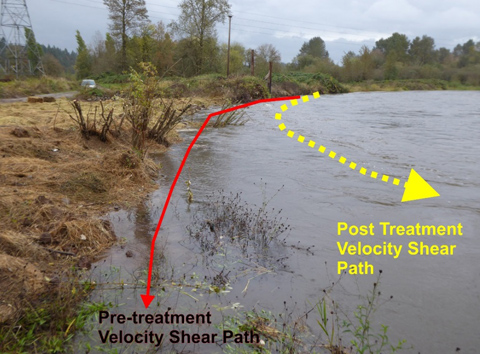 Project View during declining flood flow (about 900 cfs.) on Oct. 24th, 2016 after 75 ft. of Bend Treatment.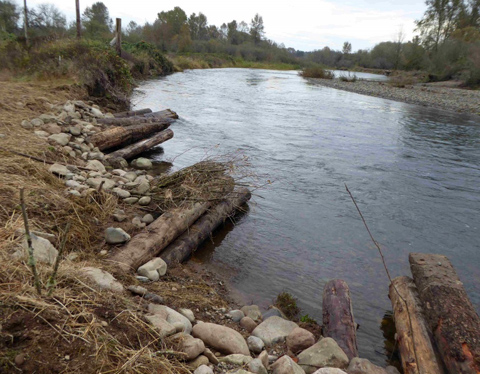 Chinook Salmon spawning in Swanson-Powerline Bend Reach Riffles – 2015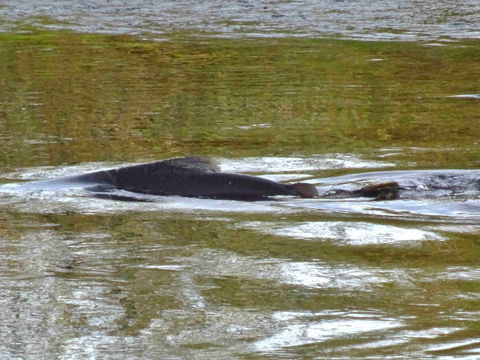 SUPPORTING, COOPERATING, AND CONTRIBUTING PEOPLE AND ENTITIES:
Project Sponsor and Land Owners: Don and Dean Swanson Families,
excavator, other heavy equipment, equipment operation and
re-vegetation materials
Lead Agency: WA Dept. Fish and Wildlife
Contributing Groups: Materials and Support Services
Pacific Power Corp. – Oregon and Washington
Friends of the East Fork Lewis River 501c3 Group
Salmon Creek Fly-Fishers – Healing Waters Veterans 501c3 Group
Volunteers: Data acquisition, analysis, designs, and installation support
Top Pacific Hydrologic Consulting – Richard Dyrland, Hydrologist
Shiori Baba – Geologist
John Farley – Data Acquisition and Logistics
Reckendorf and Associates – Dr. Frank Reckendorf,
-Fluvial-Geomorphologist
REFERENCES:
WA Dept. Fish and Wildlife, 2001. The lower East Fork Lewis River Sub basin, "A summary of habitat conditions, salmonid distribution, and smolt production", Report # 99-1113P
Reckendorf, Frank PhD., 2010. East Fork Lewis River (RM 13 to RM 6) Including West Daybreak Park Project Reach, "Fluvial Geomorphology and Erosion and Sedimentation Evaluation", Reckendorf and Associates, Salem, Oregon.
Reckendorf, Frank PhD., 2016. "Tortuosity Effects on Eroding River Banks,"
Presentation at the Society for Ecological Restoration, NW Region Symposium, 2016.
APPENDIX: Supporting Data & Information
CONTACTS:
Don Swanson, Permittee 360-263-3637
Richard Dyrland, Hydrologist 360-887-0866
Toppacific2@msn.com