Wood Complexes (Log Jams) In East Fork, If Located In The Right Place, Provide Critical Fish Habitat
Multiple pieces of wood clustered together along the bank of a stream can provide much needed critical cover to salmon and steelhead adults and juveniles.
There are different types of constructed log jams (fluvial-geomorphic wood complexes) as well as some that occur naturally at sharp bends in a stream channel, usually from high water level (flood) events or stream avulsions occurring upstream. Any constructed log jam should be designed using basic fluvial-geomorphic stream and stream bed principals. If not, monitoring records show that they will not meet the intended stream bank and fish habitat restoration objectives and some will even fail and cause loss of stream banks and other upstream and downstream negative impacts.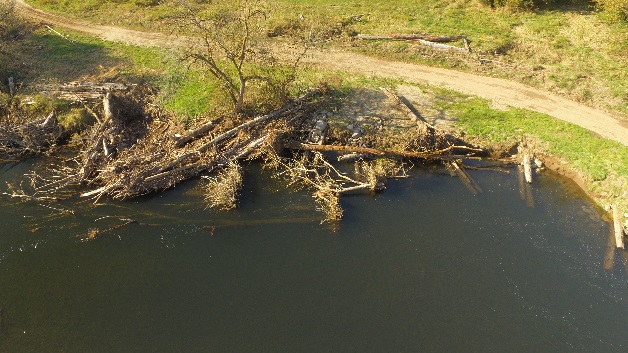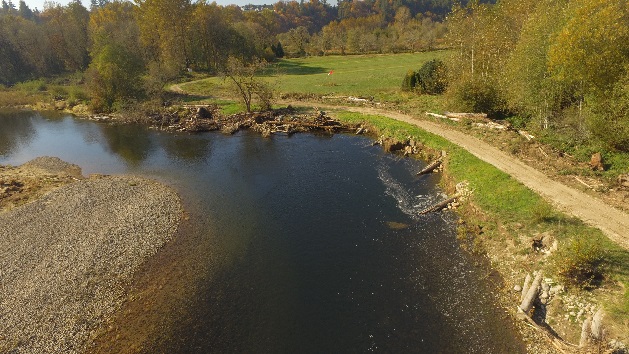 Log Jam Created By Flood Wood Deposited On Lower End Of Stacked Log Complex River Bend Stream Bank Treatments –East Fork Lewis River 2017
Those that stay in place from year to year, don't wash out during later flood events and stream avulsions, or aren't flanked or washed away because of faulty design and installation —is a type of in-stream treatment that the East Fork badly needs. They are only one tool in a tool box of several technologies to address this stream bank and fish cover problem. A 2008 study by Drs. Reckendorf and Southerland of man-made pile driven stabilized log jam installations in WA. and OR., documented and analyzed these issues associated with log jams and potential solutions.
Wood complexes are usually of four types, natural, pile driven or pile/cabled, flexible floating nylon rope, or stacked log complex. All of them provide varying degrees of fish cover, some help create deep holes underneath, and some also provide protection from stream bank erosion by forcing the fast water (flow shear stress) at flood stage flow, out into the middle of the channel and away from the stream bank.
As mentioned, the regional study by Reckendorf and Southerland showed that there was a great variation in the success of log jams based on pile driven river bed connector systems. Without the extensive use of connecting anchor logs that must be properly buried deep into the adjacent stream bank, monitoring shows that the stream may shift and flank behind them.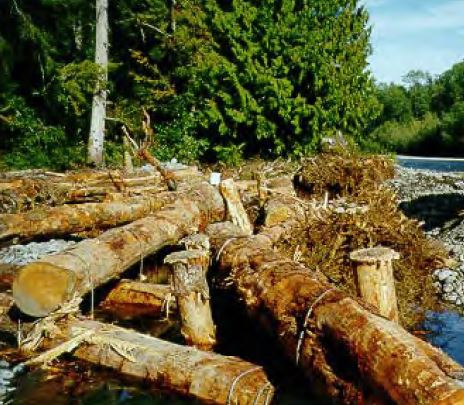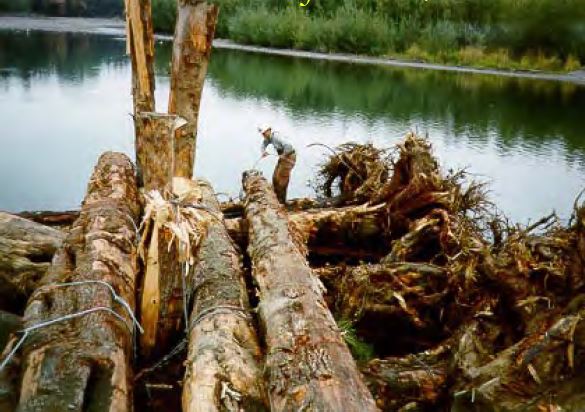 Pile Driven Large Log Jams That Also Use Wire Cabling To Tie Logs Together In 2001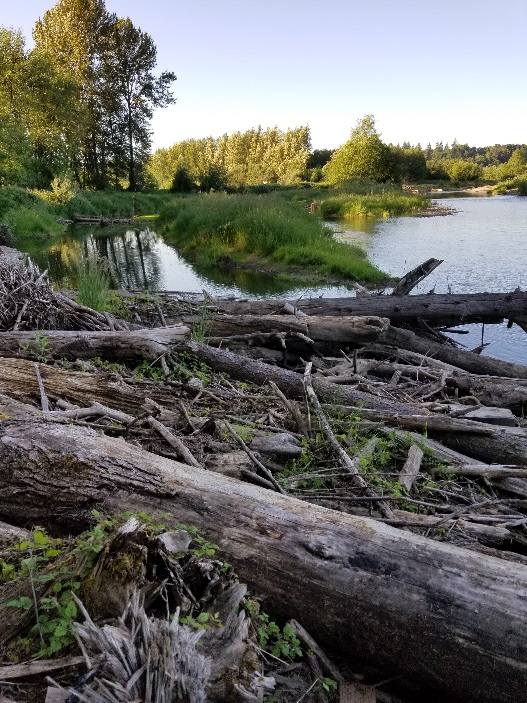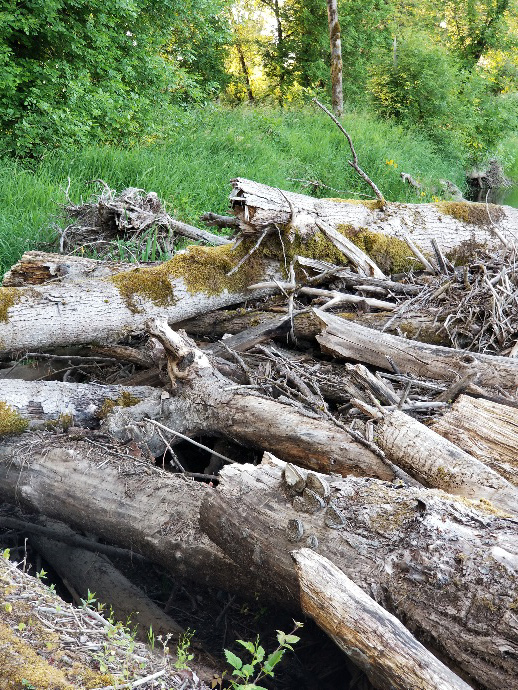 East Fork Floating Log Jam Created By Rope Anchor System In 2002 and Functioning Well In 2017
Monitoring in the lower East Fork of Floating Log Jams and Stacked Log Complex treatments (using underwater GoPro cameras in 2017 and 2018) indicate that a variety of fish species and range of age classes, are now using the pools that occur beneath them. These particular man-made (anthropogenic) log jams survived a series of 5 hydrologic "bank-full" floods in 2018.