Say "NO" to The Expansion of The Yacolt Mt Rock Quarry
Critical Meeting: Oct. 17 at 6:30 pm
Commisioners Hearing Room, 6th Floor
1300 Franklin St. Vancouver, WA
Blasting with ammonia nitrates (425,000 lbs.), has destabilized the aquifer, drying up and polluting wells and damaging homes in sections of land in surrounding area.
Rock miner is taking water from county citizens' to operate the rock quarry.
Toxic silica and mordenite dust from the rock quarry and trucks, coats and penetrates everything in its path—roads, cars, homes, clothing and can cause,(silicosis) respiratory inflammation and lung cancer.
Toxic silica, mordenite and ammonia nitrates are polluting runoff from leaking retention ponds on steep 40% plus slopes and running into tributaries and the East Fork of the Lewis River, a sanctuary stream, for ESA listed salmon and steelhead.
Each truck weighs 105,000 LBS w/rock haul, creating the equivalent road wear of 3,000 cars. They travel steep hazardous roads with blind corners and little site distance creating risk to everyone.
Roads and bridge wear is being repaired at tax payer expense.
The result of all of the above, property values have dropped.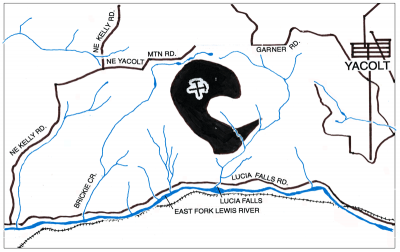 PROPOSAL FOR YACOLT MOUNTAlN ROCK QUARRY EXPANSl0N
The purposed expansion of the overlay occupies the steepest, most dissected terrain, with numerous drainages that feed sediment and pollution directly into East Fork Lewis River.
WA Dept. of Fish and Wildlife have identified coho and steelhead in Brickie and other creeks below (south and southeast) Yacolt Mountain. Also, they have installed a salmon passage culvert under Lucia Falls Road on the tributary which drains the south and southwest side of the mountain from several sections inside and around the proposed overlay expansion). These areas that drain into tributary streams off the mountain, show up as very steep slopes (greater than 40%) in LiDAR Slope Images and County Hazard maps.
Add your concerns to the growing number of county citizens, who say NO!