GREAT NEWS!
NEWLY HATCHED SALMON FRY APPEAR IN RECENTLY BUILT EAST FORK SIDE-CHANNEL
The NEW West Daybreak Salmon Side-channel built by Fish First and Clark County has been used successfully by salmon fry for over a year (2014) — now a new crop of salmon (2015) fry are already showing up!
See video clip here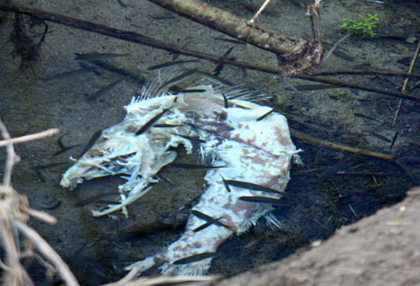 (Salmon Fry Feeding on Spawned Out Adult Salmon Carcass in Side-Channel)
The East Fork Lewis River below Daybreak Bridge is easily accessible to the public from the greater Vancouver and Portland region and receives extensive year-around use by fisherman, hikers, dog lovers, boaters, tube floaters, and those recreationists who appreciate the un-developed open space and fresh air. It is an important multi-resource irreplaceable river property that belongs to the people of Clark County and SW WA. Friends of the East Fork collaborates with Fish First to do monitoring and maintenance of fish projects.
Numerous Salmon and Steelhead fry and juveniles have moved from the East Fork River and into the new side-channel which they are now making extensive use of for flood and predator protection, cool summer water refuge, as well as rearing habitat.
Phase-2 Restoration of Long Eroded Bend Below Daybreak Bridge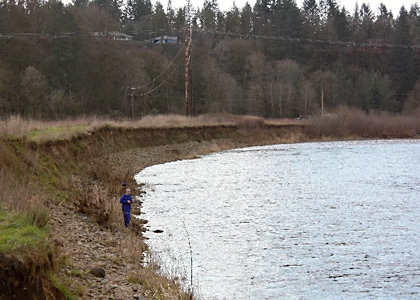 Phase-2 Restoration Design – The bare severely eroding bank, shallow pool, run, and riffle sequence in the bend just below the new side-channel was approved for funding in 2013 but funds were held back contingent on completion of the Phase-1 Side-channel. Now that the side-channel has been completed, we hope the grant funding will be approved for construction of Phase-2 in the 2016 field season or sooner. The design for the restoration of the stream bank and pools has already been approved by a Technical Review Committee.
Schematic Drawing of Phase-2 Treatments Design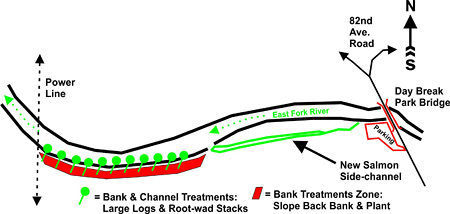 Implementing "Phase-2" whose design was approved earlier by the Lower Columbia Fish Recovery Board, is very important to complete the pool-riffle-rearing habitat sequence that is necessary to enable steelhead and salmon recovery in this "top priority" rated section of the lower East Fork.
The support of everyone is needed to make sure that the Lower Columbia Fish Recovery Board is able to follow thru on funding the West Daybreak Phase-2 ( WA RCO Project # 11-1266 ) in the next project grant cycle with the governor's WA Recreation Conservation Office (RCO) in Olympia.

LEARN MORE: Go to fishfirst.org and eastforklewisriver.org for more information on how you can help in the process of improving the East Fork.